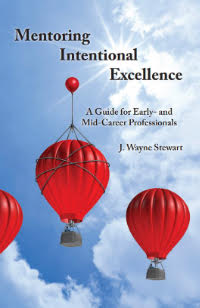 On June 15, 2017 we'll be launching Wayne's latest book, Mentoring Intentional Excellence, A Guide for Early- and Mid-Career Professionals. It's a book of mentoring experiences, based on more than forty years of professional, executive, and entrepreneurial successes (and failures) and the lessons learned from them. This book is a must for anyone who wishes to excel in his or her career.
From a CEO and Entrepreneur
"A must-read for professionals and executives. Provided in a straightforward and transparent way, Wayne's forty years of experience are condensed into a book mentoring advice for the up-and-coming in any industry."
Jim Stewart, Founder/CEO ES Interims, Founder/Partner Opus Faveo
From a career-long associate
"The value of Mentoring Intentional Excellence is enhanced by the breadth of Wayne Stewart's wide experience in large companies, being an entrepreneur, his community leadership, and church involvement. Read and learn from one of the best."
Dave Turner, former President, CEO and BOD Chairman, Neuro Resource Group, Inc.